Active member
Founder
Donator
Due to not receiving any response back we wanted to make an formal announcement to inform our followers what's happened with our @GGNet account.
On the 16th of June, I was playing around with the account settings and changed the date of birth of the account to represent GGRadio's anniversary - immediately upon pressing save the account was locked and displaying the following page: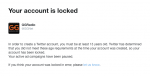 We submitted a support ticket immediately and are awaiting a response from Twitter still, as are
many others
.
All we can do is sit tight and wait for Twitter to respond, we will post in our
Discord
and this thread with any updates.
We wanted to do a giveaway this week leading up to our third anniversary but it'll have to wait and we'll have to make up for it with more giveaways! :tup:
Last edited: